Blog
Our New Hospital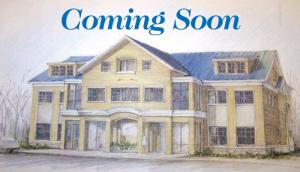 Dear Friends,
I am writing to share with you exciting news about our hospital!
Some of you may remember that our existing hospital was built by Dr. Chehayle in the 1950s to accommodate his patients on the first floor, and his family on the second. Over the years as the number of patients that we treated grew, we made modifications to the first floor and took over the second floor entirely. Today we have over 8,000 active patients and an ever expanding number of veterinary service offerings for them. Once again we find ourselves needing more space in order to continue to provide you and your pets with the best medical care and customer experience possible.
On March 28, 2012 we received preliminary approval from the Westfield Zoning Board of Adjustment for the construction of a new hospital on our existing property!
We have spent several years developing the design of this building to maximize our ability to meet the needs of our patients and clients today, and for years to come.
Your new hospital will be state of the art and will aide us in our mission to provide the very best quality medical care for our patients and client service for their families.
The plans call for a 3 story facility with a full basement. The first floor will be comprised of a spacious reception area, exam rooms for sick and wellness appointments, a grooming suite, our pharmacy and our state of the art laboratory. The second floor will house all of our in-patient services including our surgical, dental, chemotherapy, intensive care, and isolation suites as well as our radiology department and separate housing accommodations for cats and dogs to minimize their stress while staying with us. Our third floor will accommodate business offices and a conference room for continuing education.
Some of the key features that we look forward to providing are:
   • Easy access to the building via automatic opening doors!
   • Additional parking spaces
   • An expanded reception area to provide a more relaxed and comfortable area for our guests
   • A second floor dedicated to hospitalized patients where we can provide a more comfortable      Â atmosphere for our patients to recover after surgery or during illnesses
   • Separate accommodations for our cats and dogs within our hospital to further reduce stress
   • Additional space for rehabilitation services

Construction
We are anticipating construction starting in the late fall of 2012 or early months of 2013. The new hospital will be built on the site of our existing boarding facility and construction will be phased to assure that there will be no interruption in our ability to provide healthcare for your pets.
We will continue to be open and available for you from the first day of construction through the opening of our new doors approximately 18 months later.
Boarding
Unfortunately we will be unable to accept boarding reservations once we begin construction as we will be demolishing the boarding facility to make room for the new hospital.
Rest assured however that the kennel will be fully operational at least through September of this year and possibly through the Holiday season at the end of 2012.
We are in discussion with a number of local boarding establishments to help to facilitate a smooth transition should you need boarding accommodations during the time of construction.
Additional Information
We will continue to keep you posted on our progress via our staff, website and Facebook.
We look forward to sharing our new hospital with you and your pets!
Sincerely,
Richard Maus, DVM